Mining and Metallurgical Industry Overview
Global metallurgical complex and especially ferrous industry, which produces steel and steel products, ranks second after the fuel and energy complex in the global production. Ferrous industry is one of the main sectors of national and regional economy, because it is directly related to such industries as mechanical engineering, aircraft construction, construction, etc. In addition, large steel-producing companies create new jobs, provide tax revenues and export receipts to state budgets, develop and implement innovations.
Steel and steel products are among the most important and necessary engineering and construction materials.
Historical Data on Global Market
According to the WSA, the volume of global steel industry in 2019 amounted to 1,869.9 million tons of steel, which showed a 3.4% increase in comparison with 2018.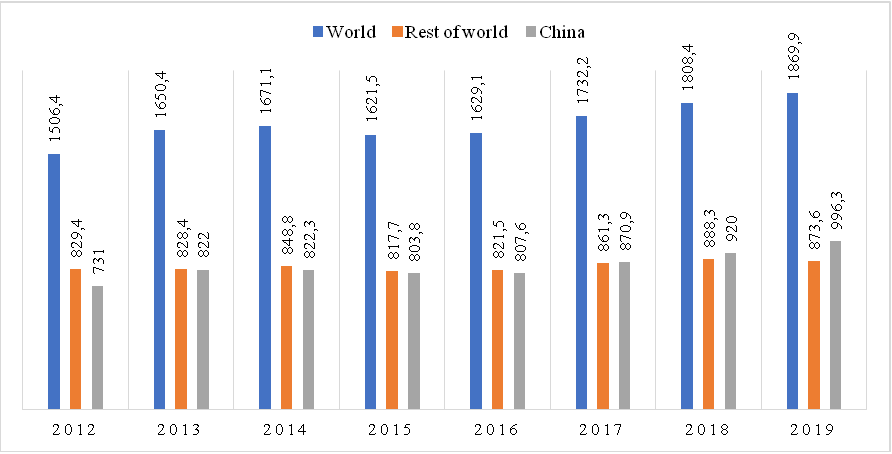 Regionally, the dynamics of growth in production volumes decreased significantly, excepting Asia and the Middle East countries. Asia produced 1,341.6 million tons of crude steel in 2019, which was 5.7% more than in 2018. The volume of production in China amounted to 996.3 million tons of steel (8.3% increase), which expanded China's market share by 2.4%. India produced 111.2 million tons (1.8% increase).
Cumulative production of steel in the European Region was 159.4 million tons in 2019, 4.9% less than in the previous year. North American production was 120 million tons, 0.8% less than in 2018. Brazilian production fell particularly sharply, amounting to 32.2 million tons, which was 9% less than in the previous year.
Cumulative production within the CIS countries was 100.4 million tons, showing a slight decrease of 0.5% over the previous year.
The largest producers are China, India, Japan, the United States and Russia, whose production volumes in 2019 amounted to 996.3 million tons, 111.2 million tons, 99.3 million tons, 87.9 million tons and 71.6 million tons, respectively. Thus, steel factories located in China accounted for about 53% of the total industry production, while India, the second largest steel producer, accounted for only 5.9% of global production. Despite the measures taken by the Chinese government in order to improve air quality, as well as the closure of more than 140 million tons of production facilities, China holds leading market position as the majority of operating production facilities is located in China.